Install IPTV Smarters Pro manually on Android with APK file
IPTV Smarters Pro app is not available on Google anymore, neither is Smarters Player Lite. Therefore, if you want to still use the same application, side-loading method must be used in which we basically Install IPTV Smarters Pro manually on Android with APK file.
3rd party APK, Installation from Unknown Sources or Side-Loading, they all mean the same. It's a method by which we manually find the APK installation package of an application from a trusted source, preferably from the original publisher/owner of the app, download/transfer it on the android devices and by opening it, installation starts. The whole process of installing it would be few Next and OK, nothing hard. In this tutorial, we're going to Install IPTV Smarters Pro manually on Android with APK file.
Note: We are not talking about Firestick here although it is almost the same.
On most android devices, you have access to a web browser, an application by which you can open any webpage or website. Using that, we can easily download the APK file on the device and run the installation. Let's showcase this on an android tablet.
Following are going to be covered:
Foreword to IPTV Smarters pro installation

Install IPTV Smarters Pro manually on Android with APK file

Adding IPTV channel list
Foreword IPTV Smarters pro installation
Before we proceed, there are few things to consider:
-No need for Google
Manual installation of IPTV Smarters Pro dos not require google services, specially the Play Store since we are going to download the APK file from the official source of the application. Executing the APK file also done through the browser with which the downloading process is done.
-Allowing Unknown Apps Installation
During the process of installing IPTV Smarters Pro with an APK on Android, your android device may ask you to enable a special access called "Installation From Unknown Sources". The process of allowing that access is pretty simple as you will be prompted by the Android OS on how to do it but if you need full guide, read this tutorial on installation of unknown applications on Android.
Install IPTV Smarters Pro manually on Android with APK file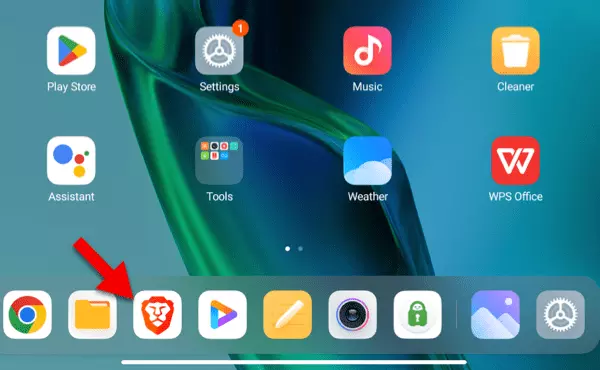 1-Open a web browser that you use.

2-Type the following address into your browser: https://www.iptvsmarters.com/smarters.apk
This is the address to the official APK file which we use for IPTV Smarters Pro installation from WHMCS Smarters team, the rightful owner of IPTV Smarters Pro.
Now hit Go.

3-File should start downloading.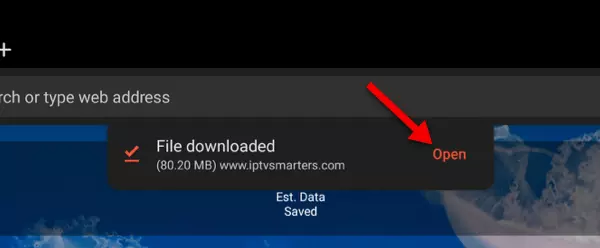 4-Open the APK file and let's start installing the application.
ATTENTION: sometimes in this step, android might intervene and stop the opening of the file. That's privacy protection stepping in. You will need to allow the browser to open the file by giving it the permission. Read this guide on allowing installation of apps from unknown sources on android.

5-Yes we want to Install.

6-Have some patience till the installation is finished.

7-Application Installation has finished, click Open.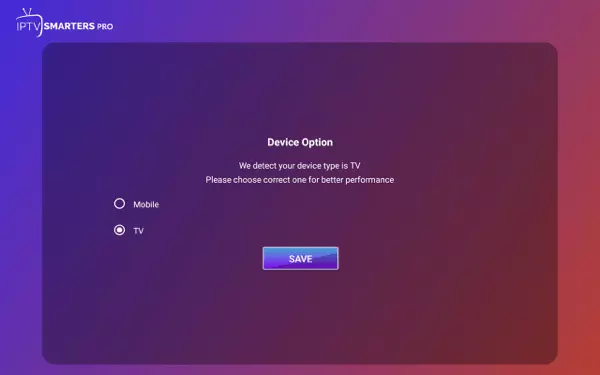 8-This is the initial step when IPTV Smarters Pro is opened for the first time.
Adding IPTV channel list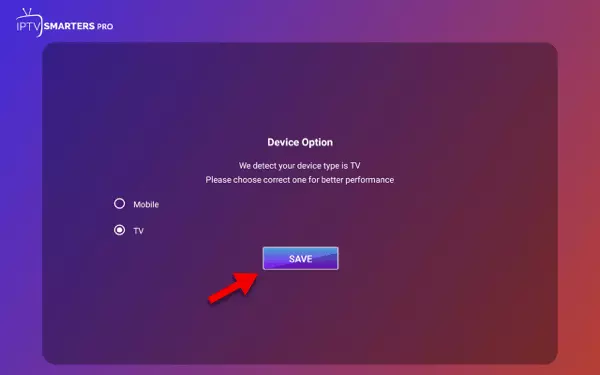 1-Since it's a tablet we are using right now, the app has detected it as a TV, keep the same settings as it detects for you and click Save.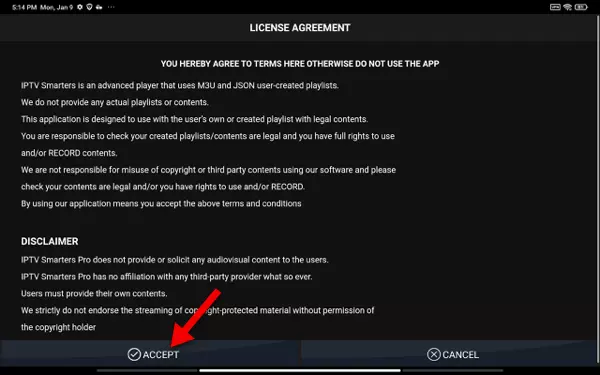 2-Accept TOS.

3-Go ahead with Xtream Codes API as its the easiest way of entering a streaming line details.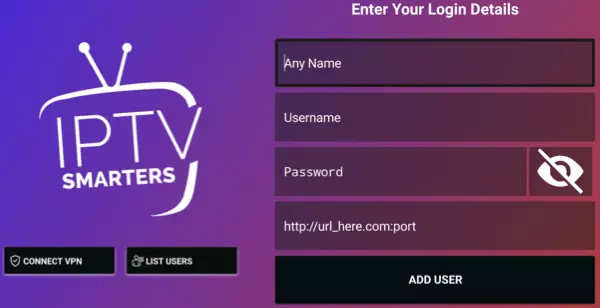 4-Let's say the imaginary M3U url below is your IPTV streaming line that you want to install on IPTV Smarters Pro. I said imaginary so you take it as a reference only.
http://provider.com:8443/get.php?username=user1&password=pass2&type=m3u_plus&output=ts
Then the above URL details is added to the app the following way:
Any Name: Name the list anything you like.
Username: should be user1, it's actually the value after "username=", so enter whatever value you see in your URL.
Password: should be pass2, it's actually the value after "password=", so enter whatever value you see in your URL.
http://url_here.com:port : according to the url above, it should be http://provider.com:8443
I insist, above is just a reference.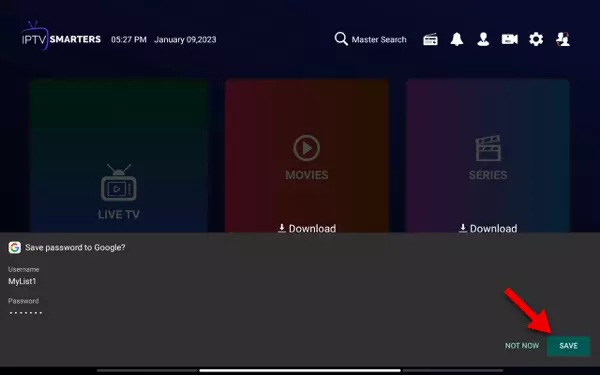 5-If android asks you for storing the password, it's up to you whether you want to save it or not.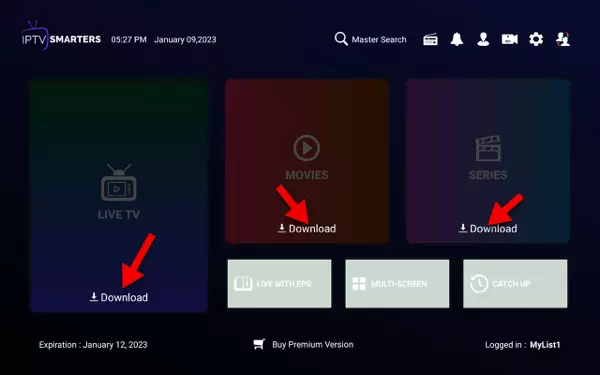 5-App is ready. You need to click on those sections so the related content list is downloaded from the IPTV server.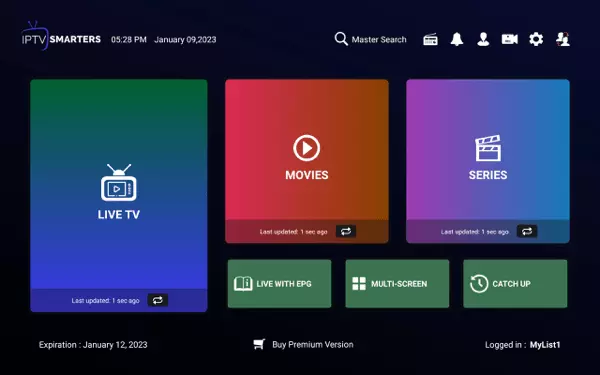 6-App is ready and loaded, happy streaming.
Conclusion
Installing IPTV Smarters Pro manually with APK file on an android device is the most independent method of installing this application. The official APK file is available from the coders of this application and the process of downloading the file till finishing up with IPTV channel list setup on it wont take anything more than 10 minutes maximum.