Install unknown applications permission on Android
When installing an application APK manually on android phones, tablets or TV Boxes, the privacy protection of android OS will stop the process. Below we will explain why it happens and how you can allow Install unknown applications permission on Android
In this article we will go through the following:
Why you are asked for this permission

How to enable install unknown applications permission
Why you are asked for install unknown applications permission
The intervention of the android operating system to stop the execution/installation of a 3rd-party, unknown APK file is due to the fact that it's an installation package outside play store environment and since it's not been installed or verified by Play Protect, it does not have the approval to pass android OS security checks. However, that's not the end of the world and you can easily execute such process by enabling Install unknown applications permission. Remember, this is safe as long as you know the source of that APK file being genuine, so act responsibly.
If you are interested, you can read this guide on installing application on android manually via APK.
How to enable install unknown applications permission
An example would clarify this better. In the instance below, we have decided to install IPTV Smarters Pro manually using the APK file using a direct link from their website on our android device.
1-Say we want to download and manually install IPTV Smarters Pro APK. File downloaded so now let's open it.

2-Android Privacy Protection is stopping the process, identifying the APK file as unknown because it was not approved by Play Protect. However, you can proceed with installation process if you accept the risks and allow Install unknown applications permission. The risk would only be there if you do not know the authenticity of the. In this case, file has been downloaded from WHMCS Smarters official website who are the owner of the application so there should be no risks. Click Settings.

3-Clicking on settings will bring us to Install Unknown Apps permission section under Privacy Protection settings. Click that switch so the permission is allowed.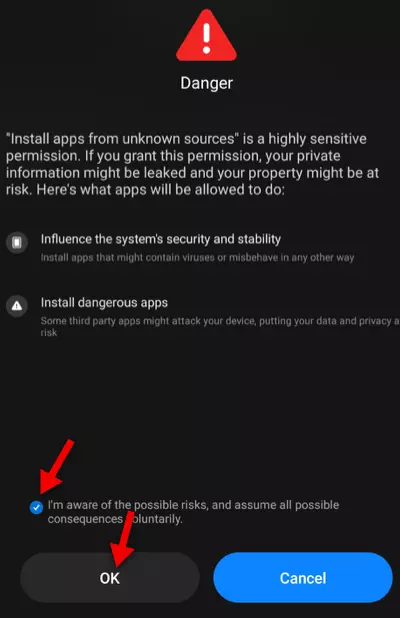 4-Check the consent box and click OK.

5-Now click Back button on the top left.

6-We are brought back where we left off. Now that we have enabled Install unknown applications feature, we can see that the Install button has appeared as an option.
7-Installation has been successful and we can proceed with configuration of our app.
Conclusion
install unknown applications permission on Android is only required if the app is being installed manually using 3rd-party APK file. Since it is coming from outside of Google Play Store, it is treated as a foreign option to the android environment of your device. If you decide to do this, make sure the APK file is genuine and safe, preferably downloaded from the original source of the application.