Installing Smart IPTV App on Samsung or LG Smart TV
Smart TVs are in almost every home these days, especially LGTV and Samsung. Some IPTV users prefer having the same device used as their IPTV device. Smart IPTV app is one of the applications which can serve this purpose.
In this tutorial we will go through the following steps:
-Installing Smart IPTV app
-Pairing a playlist to the app
-Paid license and how to pay for it
-Installing Smart IPTV app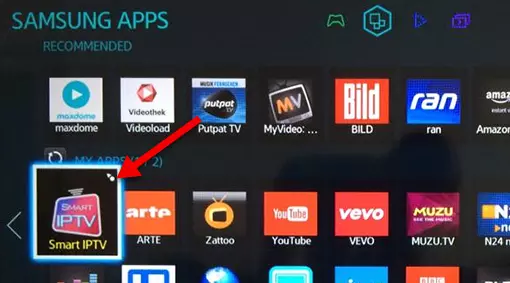 From your TV App market, search and loop up Smart IPTV app. The click to install.
Once installed, click on the app to open it.
-Pairing a playlist to the app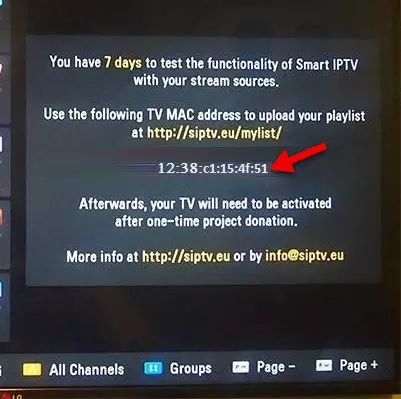 When you open the app for the first time or when there are no IPTV playlists added, this is going to show up.
The numbr which is poitned to by the red arrow is called a MAC address and on Smart IPTV application we call it TV MAC. It's a virtual MAC address generated uniquely for your TV. You first need to purchase an IPTV account, obtain the M3U url and then proceed with pairing the M3U with your TV MAC on Smart IPTV portal.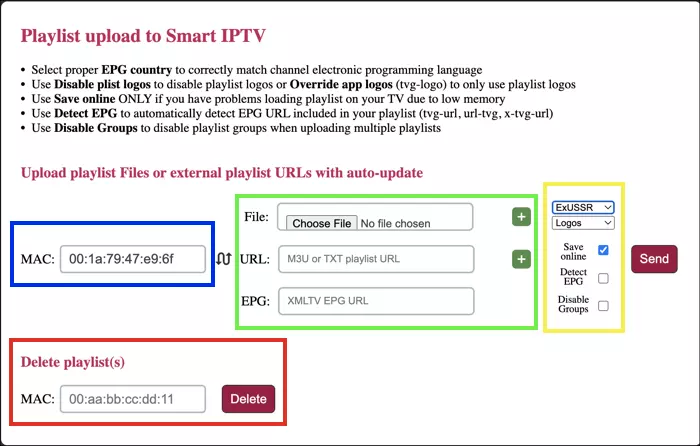 Open Smart IPTV portal and go to My Playlist here > https://siptv.app/mylist/ and the above page should show up. Let's explain this in details.
Blue Section: In the MAC address field where you should type your TV MAC (it was showin in previous step and your TV MAC is different from the one shown in this tutorial)
Red Section: If you have had your TV MAC stored in the database before and you want to delete the playlist from their Database and also from your application simply type your TV MAC here and press Delete.
Green Section: it has 3 parts
File: If you want to upload the playlist with a downloaded M3U file, this is where you upload the file. The + in front of this field can be used if you want to add multiple playlists from different IPTV providers.
URL: If you want to add the playlist using M3U URL, here is where you need to type that URL. The + in front gives you the ability to add multiple playlists.
EPG: Smart IPTV app has it's own built-in EPG database and it actually works great, but if, for whatever reason, you want the app to use your own desired EPG source, here is where you add the EPG url.
Yellow Section: It has 3 parts:
ExUSSR: This is the choice on Language.
Logos: There are 3 choices: Logos let you have Picons (The Program icon) enabled, Disable Plist Logos will disable Picons and Override App Logos will get the logos from your M3U list/URL coming from your IPTV provider.
Save Online: This feature, as stated by developer of the app, helps you storing the playlist and loading it from online database if you have memory shortage, but it also keeps your playlist refreshed upon every time you open the application.
Detect EPG: This should override app's built-in EPG and will use your IPTV provider's EPG.
Disable Groups: Will put alll channels inside one big category.
All above said, the quickest way would be adding your TV MAC in the MAC: field, typing the M3U url in URL field, tick Save Online and finally hit SEND button. Then reload the application on your TV and channel list should appear.
Note: Samsung users, you should leave the Save Online box unchecked or else it wont work for you.
-Paid license and how to pay for it
Smart IPTV app comes with 7 days free trial period during which you can use and evaluate the application. If you come to like the app, you then need to pay for the paid license. Here is a guide on How to purchase Smart IPTV application paid license.