Adding VPN to IPTV Smarters Pro: Stream securely
If you have your VPN installed on your device using VPN provider's own application, great! But if you are looking to add it to your IPTV application, IPTV Smarters Pro gives you that option and it runs smoothly. If you know How to setup VPN on IPTV Smarters Pro, then you can have both the VPN and IPTV in the same place.
This feature only works on Android and Firestick devices. Also, IPTV Smarters Pro VPN functionality only works with OpenVPN protocol as of January 2023. If you want to know how you can install this app on your device, you can follow this guide on Installing IPTV Smarters Pro manually with APK file.
Using a VPN router sitting right behind your ISP's own network router is the ultimate solution when it coms to securing your IPTV streaming environment. Also, if you are running your VPN Provider's application on your IPTV device, that is also a great choice. Below we are going to showcase one of the features available in IPTV Smarters Pro.
Facts about adding VPN to IPTV Smarters Pro

Adding VPN to IPTV Smarters Pro
Facts about adding VPN to IPTV Smarters Pro
Before we proceed, let us talk about this, see whether you need this or is it the most recommended method of running IPTV through VPN
-Multiple VPN servers can be added
You can obtain as many OpenVPN certificate fils as you want and import them into the application.
-VPN connects with one click
Once the first installation of VPN server is done, a button will appear at the top of application dashboard and you can connect or disconnect the VPN connection with just one click.
-Good solution if you own a Small OpenVPN server
If you run your own OpenVPN server, this feature would be very helpful. You can simply import your OpenVPN certificate file inside IPTV Smarters Pro and secure your streaming with your own VPN server.
-Only OpenVPN protocol supported in IPTV Smarters Pro
VPN has various protocols. The most known and proven one would be OpenVPN but it is not the best for IPTV! Depending on which country you are in, using VPN protocols may vary. In most countries, OpenVPN is doing fine for IPTV purposes but there are few, like Portugal, in which OpenVPN gets throttled from time to time. In those cases you are going to need protocols like Wireguard or Ikev2, most capable of bypassing almost any VPN throttling, which are not supported in IPTV Smarters Pro. Thats why running VPN Provider's application would be the best decision as it would have all protocols available and you may also change encryption levels which helps streaming speed and the agility of data packets.
-4K content may not stream properly
So above we explained that OpenVPN is not the fastest protocol. For that reason you may encounter issues streaming 4K or any high bitrate content. Thats another reason to use an VPN provider which offer Ikev2 and/or Wireguard as available protocols since they are a lot faster than OpenVPN.
Adding VPN to IPTV Smarters Pro
1-From top side of the dashboard, click the gear shape icon to open Settings.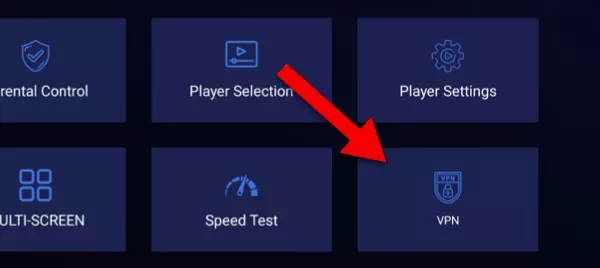 2-Click on VPN settings.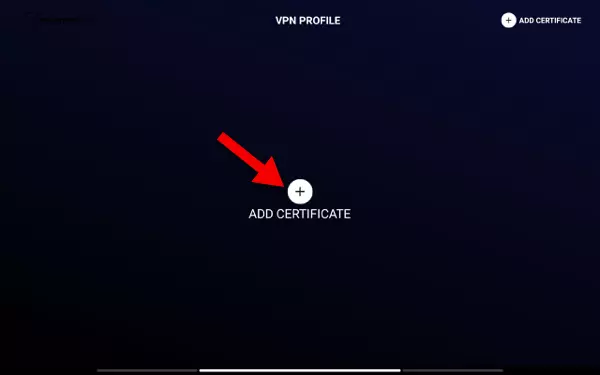 3-We have not yet added any servers/certificates so let's click Add Certificate and add a new one.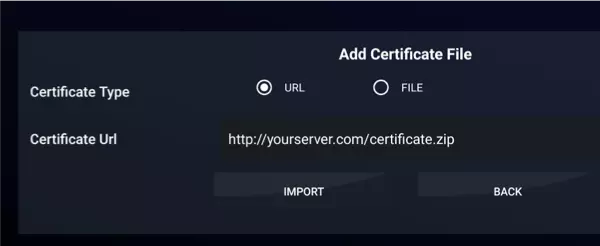 4-There are two ways to import an OpenVPN certificate file.
URL: is the address to the compressed .zip file which contains the .ovpn certificate file. If your VPN provider has an address to the hosted OpenVPN certificate file, you can obtain that and enter it here and then click Import to add VPN to IPTV Smarters Pro. You can also upload it somewhere yourself, make a direct link and use it.

5-Other method would be File.
File: in this method, you need to download/transfer the OpenVPN cert file to your device, click browse and specify the correct path to the file and then click Import.

6-VPN profile is added. Click on it to connect.

7-Now you need to enter the username and password of our VPN account. Input the details and press Save & Connect.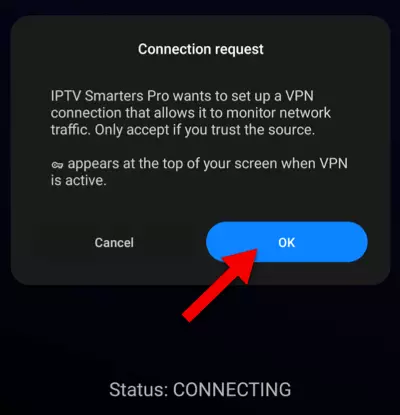 8-Click OK.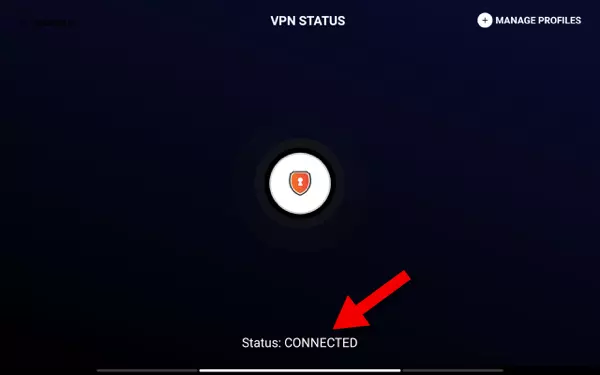 9-VPN is connected. Now click back button on your remote or do the return function on your android device to go back to the dashboard of IPTV Smarters Pro.
10-As you can see, a new sign has been added to the dashboard of the app. Green means VPN is connected. If you tap on it, it will disconnect the VPN and turns red.
Conclusion
Adding VPN to IPTV Smarters Pro is a feature available in this player application. It has it's pro's and con's. Setting up the VPN server is very easy and so is connecting and disconnecting it, but you are only limited to OpenVPN protocol which is not the best choice for IPTV purposes in some countries.